Yet another one-day trial, this time hosted by our very own club. What that means is A LOT of work for me, nights spent filling out score cards, days spent buying everything necessary for the trial and lots of nerves. Our biggest feat before this trial was filling in a huge pothole which appeared on the (unpaved) drive into the field. My back is still sore.
My biggest worry was that the entry was too large for the time we had (120 dogs) and we would end up running well into the night... And there's no lighting there. But you can always count on the "rule of 15%" (which I heard about from my best friend who's organizing her wedding. She said that she's inviting more people than she has room for, but she's been told that about 15% of guests never show up). Anyway, I'm back home and it's only 8 PM. Which means we finished ahead of time. Everything went great, the people fro mour club worked their butts off, there were volunteers from other clubs too.
I ran everybody in Jumpers and Standard (Uma, Mira, Malcolm) and Uma in the game class we had for fun - Touch N Go. Uma was clean in the Standard run and took a first place!!!
Here's the course:
We had a tiny hiccup after 12, probably with more of an arc than needed to go into the serpentine at 13-14-15. But it was nice.
Malcolm didn't get the weave pole entry (5 faults) and Mira had a refusal at 13 and I honestly don't remember what I messed up there, but clearly something went wrong.
The Jumpers course was NOT nice. Really, number 11 is where it should be - NOT on the other side of this jump. This made for a very hard weave pole entry which Uma did not miss. But I did the very same thing I did a few weeks ago, amazed by the fact she actually made the entry I kept back and she popped out. So we had to redo the weaves. Malcolm also missed a weave pole, but was clean otherwise (yes, I know, obvious weave pole issues) while Mira, who really has weave pole issues, got all her entrances. Here she had a refusal at the # 3 tunnel. Yeah. I know, a pretty lame place for a refusal. Otherwise, she was good.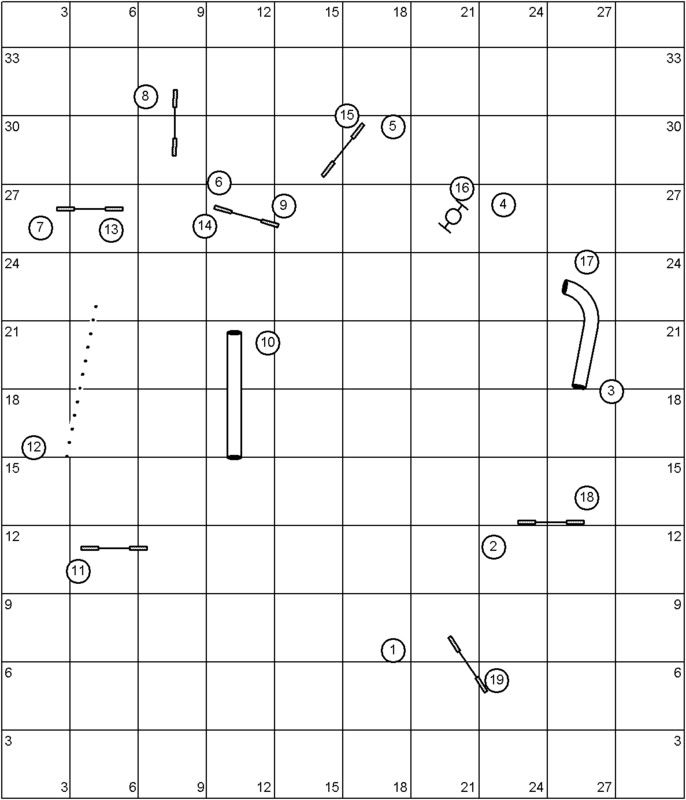 In the Touch N Go class there was an entry of, I think, something like 60 dogs (altogether, no jump heights). I only ran Uma in this with the idea of holding her contacts and counting to 3 before releasing them with all but the last contact which I wanted to quick release. I did just that and she ended up second out of all dogs (of course, clean). Possibly my proudest moment :-)
Anyway, it was a very good day for all my dogs. Uma was the best, but Mal and Mira were doing nicely too. Since there were 8 Aussies entered in the trial, Ula, owner of Asti, donated a prize for the best Aussie and Uma took that home with her too.
HOWEVER - sending her ahead of me in weave poles until the very, very end. That's what I have to work on next. And I asked a friend to time our weave poles here and they were at exactly 3 seconds. She also timed them last week and they were at 2.6 there, so it was much much slower this week. Bummer. I still haven't figured out what to do to get her to single-step these 60-cm distances between the poles.